At the end of October, we had the honor to speak at the Finovate Asia 2018 conference! Like a few months earlier, we continue to demonstrate the efficiency of non-personal data, telling about the successful resolving of client authentication and risk reduction tasks through device and user network behaviour analysis.
However, this time we tried to prepare a special presentation and for the first time demonstrated a prototype of our new product that implements the principles of dynamic authentication and increases the end-user security!
Earlier we shared our thoughts regarding the difficulties of applying classical biometrics and the importance of dynamic authentication. Today we are happy to go from the idea to the action and to present you a service that allows you improving your credit rating via selfie!
We invite you to the first JuicyBio demonstration to share this important moment with us!
Finovate Asia 2018. Presentation of the prototype of our dynamic authentication solution.The product we presented allows enrichment the data provided by the classic JuicyScore, increasing authentication accuracy, reducing the second type error. Moreover, it significantly improves end-user security and prevents from answering unnecessary questions and sharing a lot of sensitive information.
Meanwhile, the picture does not leave the applicant's device and not transferred and not stored anywhere outside as only a few descriptive attributes are collected. This means that very soon the use of biometrics will be safe and simple as taking a picture as a keepsake!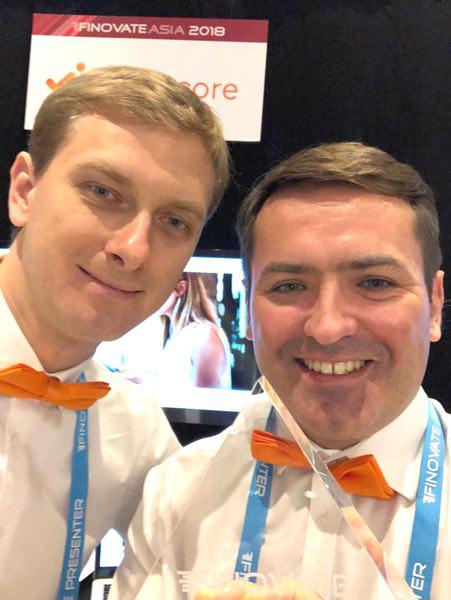 Recognize us by orange ties and do not hesitate to skip personal data!