During a recent conversation with the head of a major financial holding companies, we touched on the influence of lead generators on the risks and the level of write offs in the financial sectors.
Taking into account the size of the marketing budgets in the financial and technological sectors (companies and banks), this topic was very relevant.
The problem has existed for a long time, and in principle there are proven solutions for offline marketing. For example, a large western bank recently managed to achieve a high level of approval rate and a low level of default on credit cards simply through high precision audience targeting. By placing themselves in airports–by way of ad placement and the building of a direct sales system–they were able to strategically target the "right" audience.
We analyzed the online lead generators by taking an online stream of leads from September – December 2016 and more than 100 of the largest websites. As a result, we identified nine groups of lead generators with significantly different risk levels as indicated in the graph below.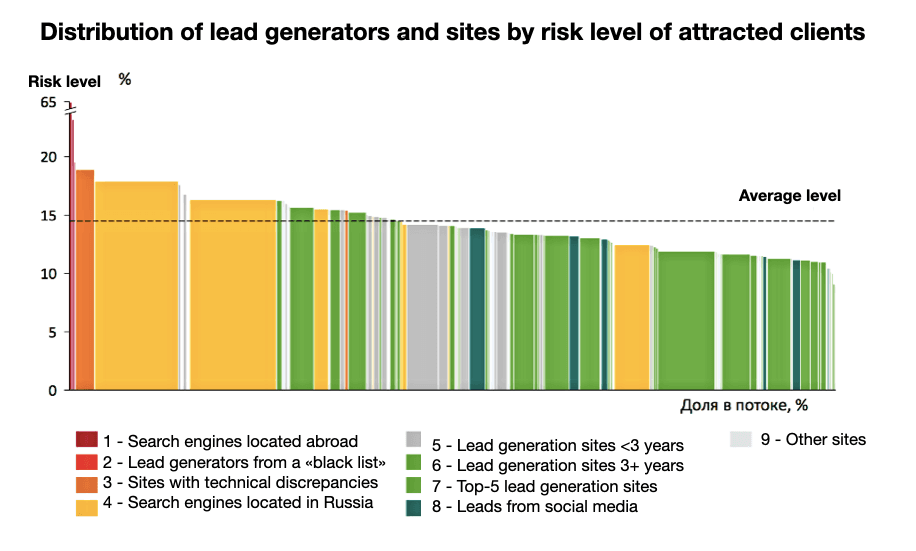 Conclusions:
The share of leads from the "black" lead generators group or from sites that are worth stop-listing (groups 1 and 2) is not exceeding one to three percent of the total flow (three to five percent – groups 1, 2 and 3) Online lenders should pay more attention to sites hosted abroad (for example, google.de or yandex.com.tr), or with specific extensions (.org, .gov, etc.).
Search engines and new online sites generate streams of customers with significantly higher level of risk.
We encourage business owners to check the level of risk of lead generators regularly, and discuss with them the stream quality, your priority in our system customers, and priority in "flow generation". With JuicyScore, we find that the best practice is to carry out a detailed analysis of lead generators automatically, and present it in the personal account of our site users.
Have a question for us about something that is relevant to the development of your business? Send your queries to info@juicyscore.com and we will do our best to cover them in our publications and studies.